"Pero a tu lado", vídeo de una de las actuaciones de Los Secretos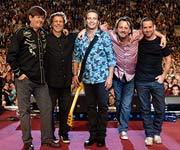 The group Los Secretos will be performing live in concert on
Saturday 6 June at 20.30h.
Los Secretos is a Spanish pop-rock music group which got together in Madrid in the 80s and since then it has always been part of the pop-rock music scene.
Its origins developed from the movement called "Movida Madrileña". For nearly thirty years they have been in the public eye thanks to their great classic hits such as : Déjame, Sobre un vidrio mojado, Quiero beber hasta perder el control and Pero a tu lado which put them amongst the best known groups in the history of Spanish pop-rock.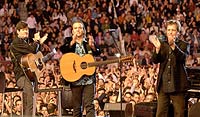 The zenith of its popularity came during the 90s with their highly successful albums "Adiós tristeza" and "Cambio de planes" followed by their compilation album "Grandes éxitos".
In 2002 the group made a come-back on the initiative of Alvaro Urquijo and since then has re-established its reputation. The group consists of Alvaro Urquijo (vocalist and guitar), Ramón Arroyo (guitar), Jésus Redondo (synthesizer), Juanjo Ramos(bass) and Santi Fernández (drums).
Promotion " Cadena 100" (Spain) →
For more information about the dates of their tour:
www.los-secretos.net / www.myspace.com/lossecretosoficial