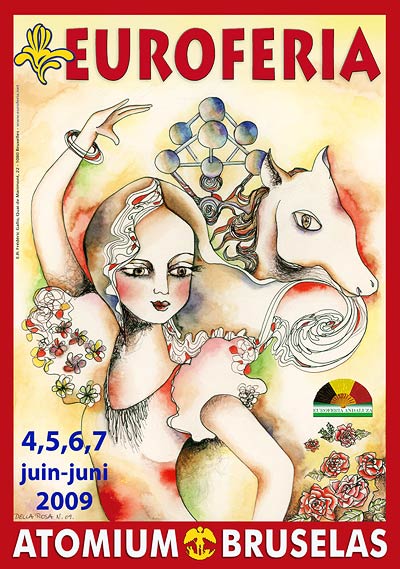 From Thursday 4 June until midnight Sunday 7 June, the biggest European "Feria", apart from those held in Spain, will take place with all its flamboyant folklore and cultural festivities of the Andalusian tradition.
Four days of "Fiesta" at the foot of the Atomium
Various culinary delights with a great variety of Spanish and Mediterranean specialities.
People dressed in pure Andalusian costumes, flamenco singing and dancing.
Strolling horses, performances by the magnificent Pure-Bred Spanish horses.
Live cultural and artistic performances in the Casetas
Children's amusements.
Special events::
Thursday 4 June 2009 at 20 h:

Inaugural reception (by invitation)

Friday 5 June 2008 at noon:

opening of EuroFeria.

Friday 5 June 2008 at 14:30 h

parade of horses and carriages leaves the site for the Grand' Place.

Horse shows:

Friday evening, Saturday and Sunday.

PS: PS: The definitive programme and plan can be finding at our web site www.euroferia.net
Some interesting facts:
More than
visitors in 4 days
participants
artistic groups
of covered stands
by bus, tram and metro as well as ample parking space.
of fairground.
The inaugural reception of EuroFeria is by invitation. We send soon the invitation for two persons by mail.
We stay always ready for interviews also with members of the organising committee and we expect you to visit us at the site of the Atomium to celebrate together this beautiful Spanish and International Fête.
For all information, please contact:
Site: www.bureaudelapresse.be
Micheline Vande Zande, press attaché: [email protected]
Etienne Louvain, partenariats - concours: [email protected]
Photos and posters in HD at the site www.bureaudelapresse.be, at Press release