The Brussels World's Fair was held from 17 April to 19 October 1958 and attracted more than 42 million visitors.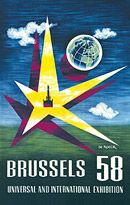 It was the first major post war World Fair – the previous one having been held in New York in 1939 when the German troops were invading Poland.
The Brussels World Fair, more commonly known as EXPO '58, was certainly the most extensive of all international events of the fifties in the scope of its exhibits. It symbolised a democratic desire for peace between nations, faith in technical progress (despite fears about the atom bomb) and optimism about the future of a modern world that promised to enhance people's lives.
To celebrate the anniversary of Expo '58 the organisers of EuroFeria are making a special feature of the Spanish Pavilion of 50 years ago with photographs and a scale model of the building. This has been made possible with the help of the Spanish Embassy.
Make a note of the dates in your diary – 5, 6, 7 and 8 June 2008 and be sure to join us at the foot of the Atomium for a weekend of celebration and intercultural exchange.