| | | |
| --- | --- | --- |
| | History | |
The history and culture of Jerez have been strongly influenced by the various races of people who have settled there over the centuries. Artifacts found in and around the city bear witness to the presence of the Phoenicians and, more significantly, the Romans in the area. The Moorish occupation which followed left a legacy of impressive buildings which, together with the more recent but none-the-less architecturally exciting Christian edifices combine to give this beautiful city its uniquely diverse character.
Few places in Spain are as well-known internationally as Jerez. This is mainly, but not entirely, due to the special wines (Sherry) it produces. Fino or Sherry with its distinctive flavour and quality is famous throughout the world. The word Sherry is derived from the name of the city - Jerez.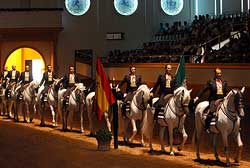 The reputation of Jerez is not limited to its wines: it has far more to offer its visitors. Jerez is the home of the "caballo cartujano" (the Spanish Pure Race horse), the "toro de lidia" (fighting bull) and is the cradle of the art of flamenco. It hosts big events such as the World Motorcycle Championships. Its large commercial centres and wide avenues lead one to the lively historic city centre where you can pass your time window-shopping or sampling the local tapas. All these elements together with its historic and artistic heritage combining the traditional with the modern have created a city of perfect harmony.
No visit to Jerez would be complete without spending a little time in one of the numerous bodegas (sherry-producing houses) which are as big as cathedrals or watching the skill of the riders and horses at the Royal Spanish Riding School (La Royale Escuela d'Art Equestre).