Vídeo de la última edición de la EuroFeria, en 2009.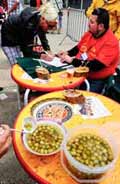 The Association Amigos de las Oliveras de Cieza (Murcia), which has been organizing The World Championship of Olive Stone Spitting to take place on the last Friday in August each year since 1995, is coming back to The European Capital to test the strength of the lungs of the estimated 200,000 visitors to Euroferia 2010.
On Saturday 5 June, starting at 12:33 pm, the Association has arranged for the First European Championship of Olive Stone Spitting to be held here in Brussels. This will be the second most important date in the international calendar of this new fair-ground sport which originated in Cieza. Entry is free – anyone can participate and enjoy finding out just how far he can spit an olive stone with the strength of his lungs. The current world record stands at 21'32 metres.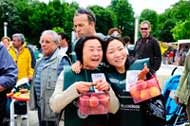 Following the success of this sport which was demonstrated at the Euroferia 2009 site at the Brussels Atomium, Euroferia 2010 has been chosen by the Association to host the first ever European Championship this year. Olive stone spitting is not unknown throughout the world – exhibitions have already been given in New York (2006), Munich (2007) and Beijing (2008).

The Association will occupy a stand at Euroferia 2010 from 3 June - 6 June which will feature the "olives chafás" of Cieza – a variety of olive which is listed as a traditional foodstuff by the EU - as well as giving information about tourism and culture in Cieza.

The "Fiesta del Lanzamiento de Huesos de Oliva" is a unique event which, like the famous "Tomatina de Buñol", attracts not only thousands of participants and onlookers but also the attention of the international press. You can find more information on the official website: www.lanzahuesos.es.