From Thursday 3 June until midnight Sunday 6 June, the biggest European "Feria", apart from those held in Spain, will take place with all its flamboyant folklore and cultural festivities and wide range of speciality dishes on offer.
Four days of "Fiesta" at the foot of the Atomium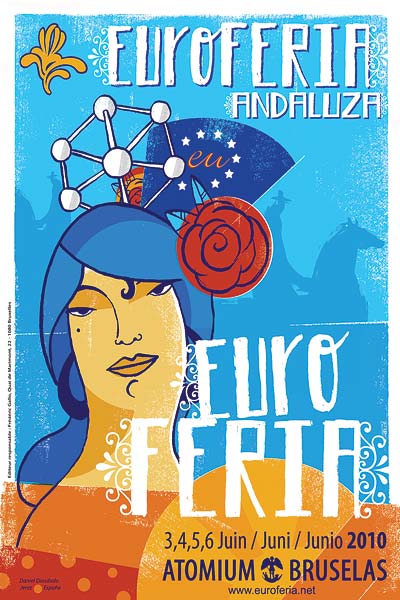 This eighteenth annual Spanish and International festival, EuroFeria, will be celebrated, for the fourth time at the foot of the Atomium.
We are expecting around 200.000 visitors in four days of "fiesta".
The organizer will supervise very carefully the continuity and programming of the installation work for the sites allocated to the participants. A lack of adequate planning for this at EuroFeria 2008, which was complicated by being held in conjunction with the 50th anniversary of Expo '58, created a certain amount of confusion in some Patios.
The 2010 EuroFeria will have three main themes : Horse shows, Live cultural and artistic performances in the large Casetas (marquees), Catering, Arts and crafts and Children's amusements. These will be shared around the 5 large 'Patios' : Andalucía, España, Atomium, Bruselas and Infierno.
Each Patio is a place where people can meet each other and enjoy a programme of music, song and dance as well as diverse animated activities and a variety of typical foods in the "casetas".
La "Portada", (monumental doorway) welcomes the public and this year it is formed by the Atomium itself in the majestic setting of the boulevard du Centenaire.
The décor and set-up of the fairground and casetas are in the authentic tradition of Andalusian Férias: a magical setting with lanterns in the casetas, strolling horses, performances by the magnificent Pure-Bred Spanish horses, people dressed in pure Andalusian costumes ("flamenca" dresses for the ladies and "de corto" for the men), flamenco singing and dancing and lots of other elements which all combine to offer the sparkling spectacle of light and colour characteristic of these celebrations.
Day and night one can enjoy the traditional food, drink and music in a friendly atmosphere. Besides typical European dishes one can enjoy a great variety of Spanish and Mediterranean specialities: ham, shrimps, "pescaito frito" (fried fish) and "paella" to name but a few. There will be "churros with hot chocolate" to end the evening, and, of course, there will be plenty of "manzanilla" and "Fino" sherry type drinks from Cadiz (Spain) without which no Andalusian féria would be complete. Much of the cuisine will be seafood dishes.
EuroFeria is an event for all the family with activities to suit all ages. The children can play in the patio created for them - the "calle del Infierno" (street of Hell) in the style of Andalusian fairs where they can enjoy all sorts of attractions.
Special events:
Thursday 3 June 2010 at 20 h

: Inaugural reception (by invitation)

Friday 4 June 2010 at noon

: opening of EuroFeria.

Friday 4 June 2010 at 14:30 h

: parade of horses and carriages leaves the site for the Grand' Place.

Horse shows

: Friday evening, Saturday and Sunday.
Each Caseta has its own programme of entertainments and artistic performances. The website will keep you up to date with what is happening where and when.
The Committee of the EuroFeria hopes you will come and enjoy this real Andalusian celebration in the heart of Europe.
Some interesting facts:
More than
visitors in 4 days
participants
of covered stands
artistic groups
by bus , tram and metro as well as ample parking space.
of fairground.