Dear friends of Andalusia and its traditions,
This year being the 50th anniversary of the founding of the European Union, whose Capital is Brussels, and as Andalusia forms its most southerly mainland region, we would like to play our part in celebrating this important event.
The EuroFeria Andaluza 2007 will see many changes. I have accepted the honour of being the new President of this prestigious festival and Federico Gallo has been appointed Honorary President after his 12 years as President. We have decided to introduce a new dimension even more suited to the importance which this fête has acquired over the years.
This year the EuroFeria of Brussels will be held at the Atomium, the prestigious symbol of this country that has always maintained strong ties of friendship with Spain.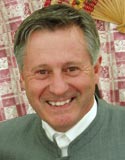 It is with pleasure and enthusiasm that we shall go on raising this event to even greater heights, knowing that we are backed up by a very dynamic team whose aim is to ensure the success of our enterprise and its expansion.
Our objectives this year are once again stimulating and exciting. The first, unquestionably, is to adapt to our new site and improve on the exceptional achievements of past years. The second is to impress everybody with the originality of the innovations we introduce PLUS extensive Spanish participation in what we do.
On behalf of the organising committee of the "EuroFeria Andaluza" a.s.b.l. we invite you to join with us in this our fifteenth presentation. Between noon on Friday, 8 June and midnight on Sunday, 10 June 2007 come and enjoy the biggest Féria in Europe outside Spain: an extravaganza of folkloric, cultural and gastronomic delights.
We heartily thank the Commune of Koekelberg, the Council and Mayor, Mr Philippe Pivin, without whose help we would not have attained our present status. We must also thank our new hosts, the City of Brussels, its Council and Mr Freddy Thielemans, its Mayor; also the Government of the Region of Brussels Capital for the substantial and essential support it has given us. We also thank all the organisations and people who, from near and far, have brought or will bring a stone to add to the building of our success.
We extend to you a warm welcome to the EuroFeria Andaluza de Bruselas.
Antonio Wolf
President