TONYA'S latest single
World première at the EUROFERIA !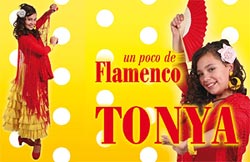 Tonya was discovered when, at 8 years old, she sang in the Eurokids final and came second with the song she herself composed "Hé doe maar mee". Now aged 12, she is a personality in the world of children's music. She already has 8 singles to her name. At the end of last year she brought out her second full album !
In 2007 the little singer is as busy as ever.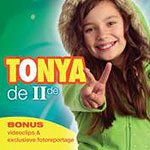 She has recorded a delightful summer song that she will perform for the first time in public at the Euroferia. It is a flamenco song, bilingual in Dutch/Spanish: "Un poco de flamenco", superbly choreographed by flamenco dancer Samina Carremans.
While dancing the flamenco Tonya swishes her skirts, flutters her fan and clicks her castanets - just like a real flamenco dancer. And that is exactly what she wants all young people to do this summer ! Visit: www.tonyafanclub.be
Painting the Osborne bull
In 1956 the Osborne company asked Azor, the publicity agency, to come up with a symbol to be used to promote its Veterano brandy. No-one imagined that the chosen design would become so well known and popular as to withstand the passage of time. The outline figure of a fighting bull drawn by the artist Manolo Prieto was proposed as the logo. The simple solid black silhouette of the bull was originally intended for use on the bottle labels but soon became the emblem of the whole Osborne company.
For the three days of the EuroFeria Osborne has donated 10 such bulls, made of wood and about one metre high, which will be painted by well known Belgian artists and exhibited in Brussels in September, then sold, the proceeds being given to charity.
If you want to know more about the Osborne bull (el toro de Osborne) visit the website www.osborne.es, or read the article recently published in Hispagenda to mark the 50 th anniversary of this world-famous icon:
www.hispagenda.com/articulos/2007/01/31/toro-osborne